Trust and credibility can never be bought, they must be earnt. So how do you offer value to your social media following and past/current/future clients, customers, leads, etc?
The value of a business blog goes far beyond that of just filling a page on your website and writing 'just because'. When done right, a blog (with collateral social media content) is a way to tap into a whole new world of loyal following and a cult-like community of like-minded individuals and groups.
Think about it. By delivering value packed content, you can leverage the power of social media to gain the trust and credibility your business deserves (Whilst showing off your skills and commitment to giving back to the online community).
We sign up to daily newsletters, constantly click the 'link in bio' to read a fresh piece of content during our morning scroll, even subscribe to online newsletters but behind the scenes, keeping a fresh and updated blog on your website is actually more powerful than you may think.
Blogging (and we mean useful, meaningful, thought out content – not a few words scrambled together) really is an often squashed secret to cutting through the noise.
Search engines CRAVE fresh content. By regularly adding fresh material like a new piece of content (like blogs) to your website, you're tricking the search engines into thinking it's a new page, which in turn improves rankings.
Andrew Lipattsev, Search Quality Senior Quality Strategist at Google said: "What factors help you rank with Google? I can tell you what they are. It is content. And it's links pointing to your site."
Blogs also help convert traffic into leads as your posts can refer readers to other important pages of your website like the ones that are product specific or have an appointment booking system. A seamless way to enhance user experience on your website and keep visitors on your website for longer.
This is particularly useful when building trust with your visitors who could be looking for knowledge and answers. You're locked and loaded with a library of relevant content to show them exactly what they want to see and perhaps even lead them into purchasing one of your products or committing to your service offering. 
A good trick is to load your blogs up with educational content that others will find shareable. This tactic will also trick search engines into boosting your ranking as they crave links back to blogs simply because it tells them your website is a valuable resource and needs to be up there in the ranks. Better yet, share your blogs around social media with a cool cover image and you've hit the share jackpot.
Hint: Blogging is also a quick tool to create shareable content. You can post your blogs into newsletters, as LinkedIn articles, shared social media posts and even condense the content for quick marketing and content shares.
By blogging, you're giving prospect customers a reason to choose you when making a purchasing decision as you're providing them with interesting and educational content. You're also adding value to them by not just being another website.
Web.bird.digital acknowledges blogs are time consuming, but we're certain they're entirely worth it! Our flock offer ghostwriting blog services and you bet we'll learn your industry inside out, back to front and deliver custom content which is written to order.
Cut through the noise and contact us today to learn more and get your blog working for you.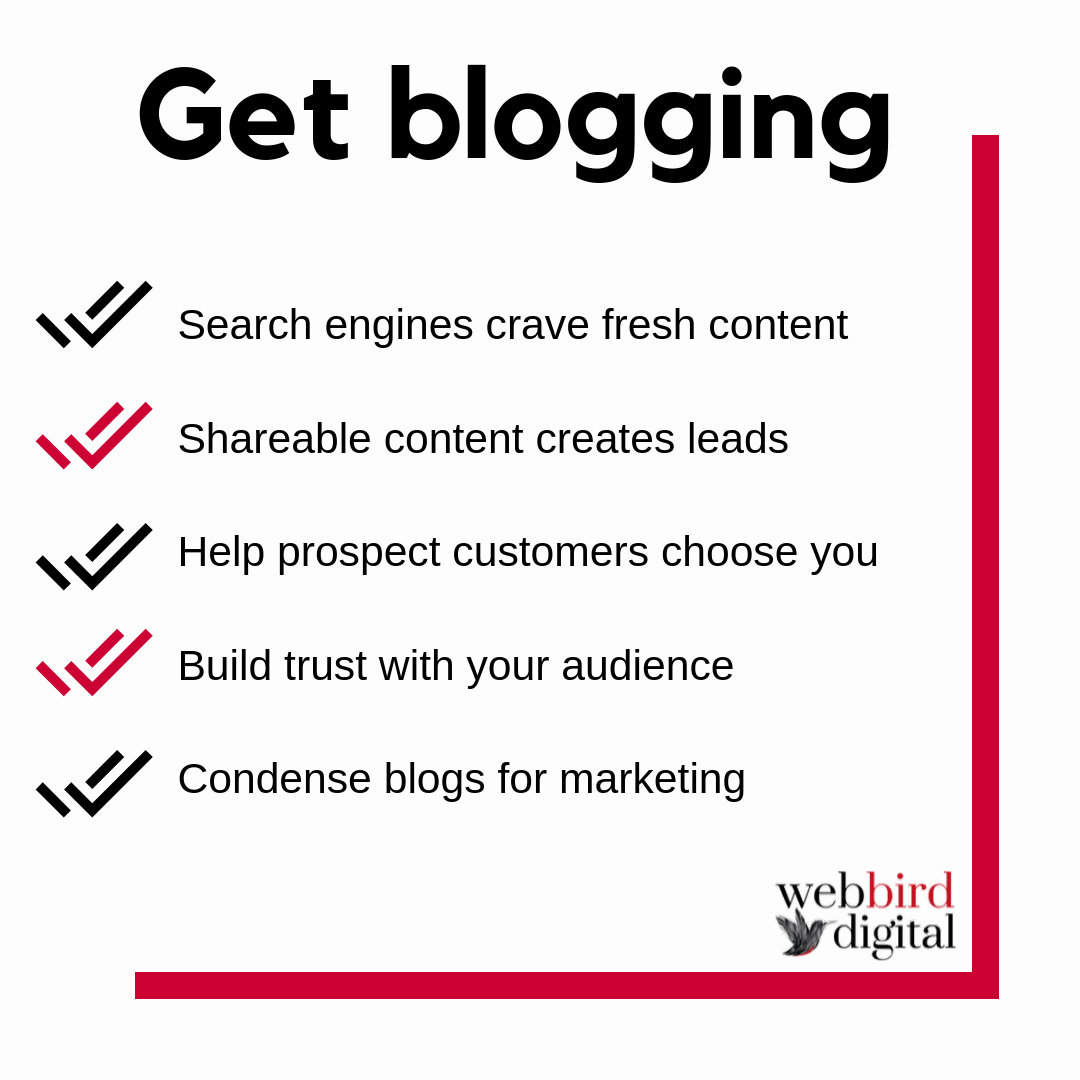 Want to read more?
Google Blog – A secure web is here to stay
TechCrunch – Chrome will soon mark all unencrypted pages as 'not secure'
The Verge – Chrome will mark all HTTP sites as 'not secure' starting in July
Akamai – Make way for HTTPS
Cloudflare – HTTPS or bust: Chrome's plan to label sites as "Not Secure"